Advanced Ceramics
and Applications VII
Dear Colleagues,
It is our great pleasure to invite you to the Advanced Ceramic and Application Conference VII to be held in Belgrade, 17-19th September 2018, organized by the Serbian Ceramic Society in cooperation with the Institute for Testing of Materials, Institute of Technical Sciences of SASA, Institute of Chemistry Technology and Metallurgy, Institute for Technology of Nuclear and Other Raw Mineral Materials, Archaeological Institute of SASA, Vinča Institute of Nuclear Sciences (Laboratory of Physics - 010), School of Electrical Engineering and Computer Science of Applied Studies, and others.
Advanced Ceramics include well known ceramic materials produced using novel processing techniques as well as a broad range of the innovative compounds and composites, particularly with plastics and metals. Such new materials with improved performances already bring a new quality in the everyday life. The chosen Conference topics cover contributions on design and manufacturing of novel multifunctional ceramic materials and nanoceramic devices, application of novel ceramic materials in a wide variety of fields (environment, biomedical, electronics and information technology), fundamental theoretical research in advanced ceramics and computer-aided design and modeling of new ceramics products, etc.
Please find additional details on the conference in the attachment.
Looking forward to see you in Belgrade.
Organization Committee
Serbian Ceramic Society
---
Serbian Ceramic Society
(SeCerS)

The Serbian Ceramic Society (SeCerS) is a non-governmental, nonprofit organization funded in 1997 to promote science and technologies of ceramics and ceramic based materials. SeCerS represents Serbian ceramists in European Ceramic Society. Individuals who want to be member of the SeCerS have to fill MembershipForm.

Member of:
European Ceramic Society

In Focus:
Advanced Ceramics and Applications VII
Dear ACA VII Participants,
please find more details about upcoming conference and program overview attached.
Belgrade, Serbia, 17-19th September 2018
In Focus:
Advanced Ceramics and Applications VI
Belgrade, Serbia 18 September 2017
Program overview, Conference Information, Program and book of abstracts
In Focus:
Advanced Ceramics and Applications V
New Frontiers in Multifunctional Material Science and Processing Conference
Belgrade, Serbia 21 September 2016
In Focus:
William E. Lee, Rainer Gadow, Vojislav Mitic and Nina Obradovic: Proceedings of the III Advanced Ceramics and Applications Conference. Atlantis Press, 2016.
In Focus:
The letter of President of EUROPEAN ACADEMY OF SCIENCES AND ARTS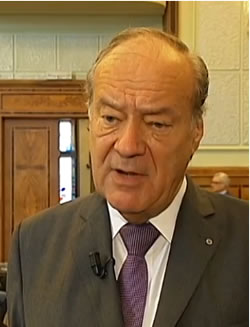 SeCerS hosts the President of European Academy of Science and Arts Prof. Felix Unger (by RTS)